October 12, 2013
Is this Banksy? Elusive graffiti artist may have finally been caught out after his van broke down while installing artwork in New York, USA
Secretive artist apparently seen wearing a flat cap and dirty overalls
His true identity has never been confirmed for sure despite his fame
Banksy is currently in New York creating artworks around the city
Many believe he is a former public schoolboy named Robin Gunningham or Rob Banks
Follows a 2011 sighting of a man believed to be Banksy in Santa Monica, USA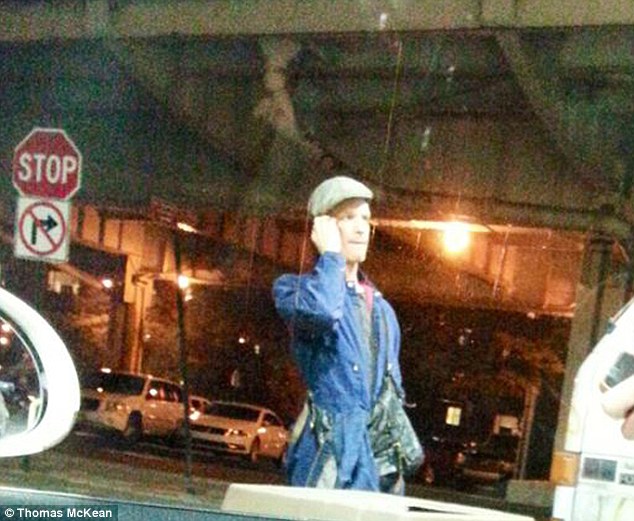 Reclusive graffiti artist Banksy has apparently been caught on camera overseeing the creation of one of his artworks in New York.
A man in a flat cap and paint-spattered overalls was photographed trying to fix a 'moving painting' in a van which had broken down, as part of the artist's month-long 'exhibition' in the U.S.
That person is now believed by several newspapers to be the elusive Banksy, who has never confirmed his identity and of whom no picture is definitely known to exist. All that is known for sure is that he is from Bristol.
Supposed earlier images of Banksy feature a white man in his 30s of average build with brown hair – making them compatible with the latest image, which was taken in the East Village neighbourhood of Manhattan. Banksy, whose work has been painted on the sides of buildings around Bristol, London and other cities, has always insisted he will never reveal his true identity.
Banksy said this week that his plans in New York had been hampered by the speed of building in the city as places he wanted to paint were redeveloped.
"I returned to find most of the empty lots I planned to use have got condos built on them already," Banksy said in a rare interview with the Village Voice. He said he staked out the city months ago and was shocked at the speed of development.
"I chose it for the high foot traffic and the amount of hiding places," he said. "Maybe I should be somewhere more relevant, like Beijing or Moscow, but the pizza isn't as good."
The famously private graffiti artist chose the New York City paper for his interview because he 'feels an affinity with people who provide quality content for free on street corners'.
Also see the documentary: 'Exit Through The Gift Shop'
Edited from the New York Times – 11/10/13