September 30, 2013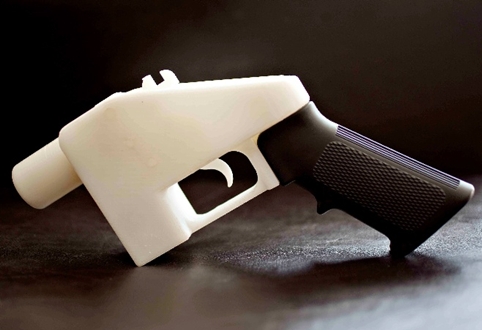 At this year's Design Festival in London is perhaps one of the most interesting innovations in print design since Gothenburg's printing press itself.
Introducing The Liberator – the world's first downloadable, printable gun. Yes, gun. Not staple gun or glue gun, but proper gun as in Dirty Harry's "Do You Feel Lucky Punk?" .357 gun, gun!
Showcased in a sultry side room at the V&A is an example of this amazing invention. Designed, tested and invented by Cody Wilson, the gun itself is so innovative that current copyrighting and licensing laws and transporting protocol hasn't even been thought of yet. It's a design that warps and steps outside so many laws and has the minds of the great and good (and possibly evil) working overtime wondering whether the humna race has just invented something as potentially deadly as a cobra snake. Once in the public domain can it be regulated if hacking is even more prolific and easier than gun running? Anyway, there's some food for thought. Now let's look at the invention itself.
Developed by Texan law student Wilson, the Liberator was first fired in May. Wilson's company Defense Distributed now creates designs for guns and gun parts that can be downloaded and printed out by anyone around the world with access to a 3D printer.
The Liberator has been acquired as part of the Design Fund to benefit the V&A, an annual project that funds the museum to buy contemporary design objects for its permanent collection, with an emphasis on the innovative, the influential and the exploration of current trends.
With its acquisition of the Liberator, the V&A has put itself at the heart of a controversial debate about the boundaries of new technology and the democratisation of design and manufacturing.
V&A curator Kieran Long said that Wilson refused to bring the gun over himself, for fear that he might be arrested, and furthermore that he couldn't get an American export license to send it over to the UK. Instead, a London-printed stand-in is on display.
The V&A is not the first institution to display guns as contemporary design objects. The Design Museum brought an AK47 into its permanent collection in 2011, sparking a argument over whether an object created to kill people could be presented as a 'design icon'.
CLICK HERE TO SEE THE GUN IN ACTION
In displaying the Liberator so modestly and without ostentation though, the V&A could never be accused of this. Even the most ardent gun fetishist would struggle to be turned on by a pile of small plastic parts.
What the V&A is doing, laudably and simply, is making us think about how design pushes the boundaries of human possibility – in beauty, in function, in comfort, in thought – in good and in bad.
Thanks to Sam Burt for sourcing this item for the blog!