March 28, 2014
Silvertoad's Amy has been a hot Vimto addict since starting work at Silvertoad all those years ago! So we were thrilled in the office to find out that Vimto love toads back! Incredible work of coincidence or a fact that brilliant minds think alike?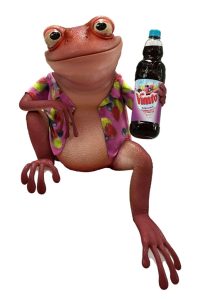 The Vimtoad has been created by Aardman Animations (home of Wallace and Gromit and Shawn The Sheep). Apparently, the Vimtoad hails from upcountry, sporting a northern twang that will be hear in the new TV adverts / online campaign that is launched next month (April 2014).
A spokesman for Vimto said, "The relaunch is aimed at boosting sales across its squash, carbonates and stills ranges. Vimto is also expanding its 'No Added Sugar' range in a bid to attract health-conscious consumers."
The new packaging, which is also being introduced next month, aim to drive 'trial and frequency of purchase' according to Vimto.