February 22, 2014
How cool / silly is this invention. Doiy has designed the ultimate novelty prize for hungry cycling fans across the world. I don't know how it promotes healthy eating and cycling at that the same time though. Silvertoad hazard a guess that it may be a a 'guilt' thing.
But at the same time, wow, it's a pizza cutter shaped like a bike that actually works. The Fixie pizza cutter' is modelled after a fixed-gear personal cruiser, complete with miniature handlebars, a seat and either watermelon and bumblebee coloured frames. Its two, razor sharp stainless steel 'tires' are both rotating slicers, so when the user guides the device along the pie, it easily divides.
Whatever will these genius minds think of next? A helicopter that cuts your hair? A mechanical frog that swims in your washing up bowl and cleans your plates? This invention seems that silly and random.
Silvertoad love pizza and at least one of us has had a go on a bike in the last decade, so we love it.
That's all for this month's 'silly' invention corner.

The 'watermelon' color cuts a pizza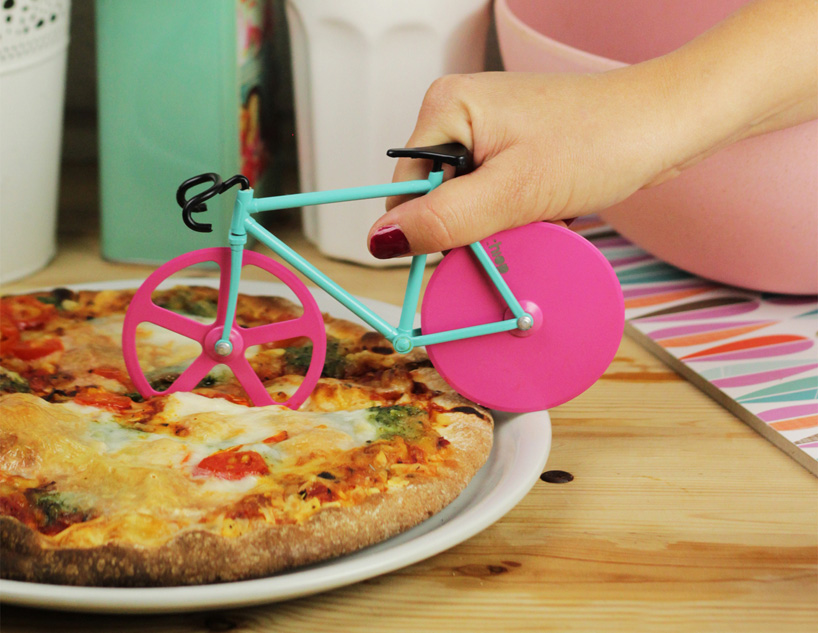 slicing a pie

Available in watermelon and bumblebee variations

Packaged fixie pizza cutter
Photos by N. Azzerello (Design Boom) / all images courtesy of Doiy