September 03, 2013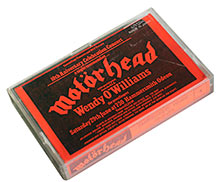 A big part of everything we create at Silvertoad Ltd. is aided by our love of music. Never a day goes by in the studio without some form of music playing. We have conoisseurs of all genres in here, and loves that range from Mario Lanza or Matt Monro (Michael), to yesterday's release on Tru-Thoughts Records (Sam) to Guns & Roses (Chris). Our love of new technology to aid our work also inspires us to widen our creativity too.
But what of the old formats that we've stepped on to get to the 'next' new thing? It would appear that although smeo inventions and formats were bad and time consuming, some of the more useful are making a comeback. And not just because somebody in Hoxton said it was a groovy idea – (unintentional Hipster backlash there – we love you really!)
For instance, there will never be a time when the floppy disk will return because there just isn't the capacity anymore. Receptacles as small as a peanut can carry as much data as 1,200 floppy disks. So how come the audio cassette is back. Sony stopped making the Walkman in 2010. By comparison, the iPod stores 1000s of songs. A cassette tape can hold 90 minutes worth of material, so what's going on?
We're proud to say that our cassette player lives on in the Silvertoad studio and we will be ever respectful of old formats because one day we may revert completely just for the love of it.
Did you used to make compilations?
7th of September sees the launch of International Cassette Day! So everybody make a mix-tape / compilation! http://cassettestoreday.com
Remember spending rainy Sunday afternoons making tapes for that girl, or that boy? No? What's the modern equivalent? Drag and drop? Where's the love? Where's my De'Lorean?