August 13, 2013
Bi-Annual Exhibition Reflections and Anticipation…
The 2013 edition of the bi-annual Design Miami at Art Basel is a new and most definitely improved version of the exhibition that brings together international design galleries each December in Miami, Florida, USA and every June in Basel, Switzerland to show their wares simultaneously with Art Basel. There is plenty of colour and quality, and a new tendency to combine the old and the new.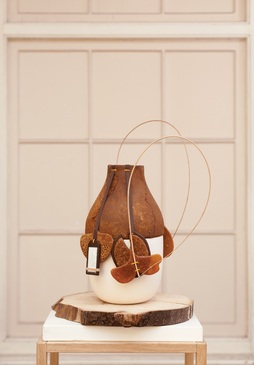 Perhaps it is the new venue – Herzog and de Meuron's addition to the Basel Messe site – identified by the monumental latticed metal ring at the centre of its design – that has inspired gallerists to up their game. Or that Design Miami, now eight years old and being deftly run / curated by Marianne Goebl, has grown into itself and has a new sense of credibility.
Among the highlights are two new works at Paris-based Galerie Kreo by Hella Jongerius, both exercises in colour. Their 'Dragonfly' coffee table overlays laquered glass and aluminium to create sections of solid colour, the glimmer of metal and moments of transparency; the 'Niebla' is a standard refectory table turned into a piece de resistance by a gradual layering of blush pink over its walnut top.
Meanwile, London gallerist Libby Sellers' stand is similarly chromatic. She commissioned recent Royal Academy Of Art graduate Anton Alvarez to make new designs with his Thread-Wrapping Machine in colour schemes to co-ordinate with the other pieces on her stand. The results – appealing stools, totems and more – are flying off the stand and Sellers has had to warn buyers there'll be quite a wait, as each piece is hand-made.
The London-based Frenchmen behind Carpenters Workshop Gallery have teamed up with Galerie Steinitz: Purveyor of Antique Rarities, to prove that the Studio Job sits very nicely next to a unique 18th Century commode, once the property of Madame de Pompadour. A lush 19th century apartment was constructed by a team of 21 over five days. The result, a room lined with embossed leather by contemporary designer Ingrid Donat and furnished with her boxy leather clad armchairs; another lined with George II boiserie, boasting a pretty minimal Rick Owens dining table finished in a dark matte lacquer.
The re-thinking of the W Hotel's: Designers of the Future award, which invites three young designers to create new work for Basel, has produced some worthy results too. This year, Jon Stam, Bethan Laura Wood and Seung-Yong Song were each sent to a W Hotel for inspiration – a mission with clear success. Stam's stint in Verbier has led to a black mirror in which views of the mountains throughout the seasons can be seen – a poetic portrayal of a place. Wood roamed the streets of Mexico City and returned to London to work with both Mexican and Italian glassmakers to create flower-like wall and table lights and large-scale chandeliers. And Seung-Yong Song – seeing how the city's sellers will attach wheels to just about anything on Bangkok's streets – has added them to his own neat contemporary storage systems in anodized aluminium.
Meanwhile, a whole other side of design is celebrated by artist Mickalene Thomas at Better Days, an installation she devised as part of the Absolut Art Bureau initiative in the city's Volkshaus. In the spirit of her glistening portraiture, which features 1970s-styled women in heavily wallpapered interiors, she has reconstructed a fantasy 1970s suburban New York sitting room, complete with period chairs and even plug sockets. Fair goers dance on the patterned carpet until 2am every night, drink sticky 1970s style cocktails from a variety of chipped glasses and mugs and the American ones even get to charge their cell phones. It is just the sort of time travel and entertainment everyone needs at the end of a long day. Artful indeed.
– Article edited from material by Caroline Roux published in Wallpaper* Magazine
If you have ever managed to attend either events over the last eight years, please drop us a line and tell us all about your experiences.
www.silvertoad.co.uk