February 01, 2019
Facebook has announced changes to its policies regarding groups and pages as a way to control the spread of bad information and fake news that some critics have called a crisis.
This is a direct response to the latest scams and false news being spread around the platform.
Beginning this week, all page managers will now see a new tab that explains why Facebook removes certain content and shows when posts have seen their distribution reduced as a result of being flagged by third-party fact-checkers.
The new page quality tab will feature two main sections — one area showing content that was recently removed for violating community standards and another for content rated "False," "Mixture" or "False Headline" by third-party fact-checkers.
The social network plans to expand the feature, but to start it will show any content that has been removed for reasons such as hate speech, graphic violence, nudity or sexual activity, harassment and bullying, and regulated goods.
The question is how affective will these changes be? Facebook have introduced similar rules in the past however they did not seem to stick. Will these new policies finally put the issues to bed? Keep an eye on our blog for further updates on the new FB changes throughout 2019.
FAKE POSTS – DON'T BELIEVE THE HYPE!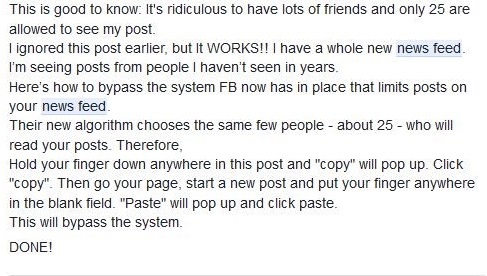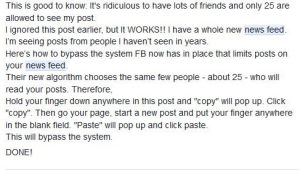 We've noticed an old scam/hoax has become new again as 'copy-and-paste' posts go viral once more. The particular scam is about "bypassing" or "resetting" Facebook in order to see more than 25 friends in your newsfeed.
The posts, like many other Facebook scams, ask that users copy and paste the post into their newsfeeds often including links to viruses.
Just to be clear – Facebook is not restricting the content you see on your News Feed so don't be fooled and don't waste your time sharing!
There's also a raft of old fake post messages being circulated about protecting your 'copyright or privacy rights' on Facebook by posting a particular legal notice to your wall.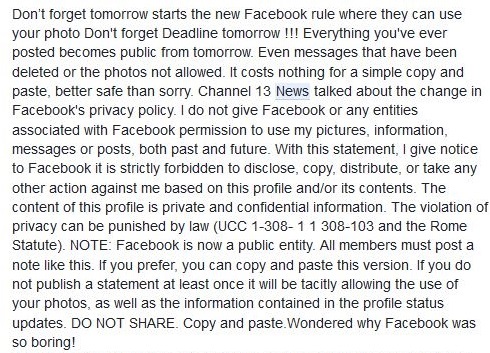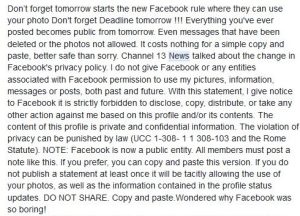 Sadly, these posts become quite believable the more they are shared and people claiming to see more than before once they've done it. Not so, if you are seeing more, it's not due to doing what this posts suggests…
So just to clarify, this claim is also very much false and Facebook do not share your private information.  
If you're in any doubt, just refer to the Terms and Conditions of use of the platform for clarity and avoid spreading fake news and posts inadvertently.