July 29, 2013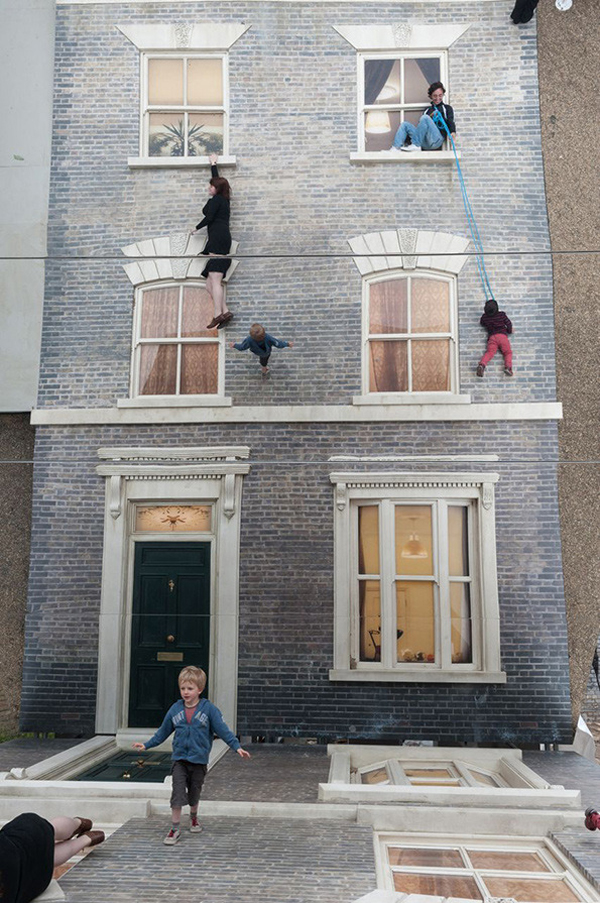 Sorry, we were a bit late with this! Commissioned by the Barbican, Leandro Erlich giant optical illusion meets art installation stands on the foundations of a house that was bombed in the second world war. You can find it in Dalston, close the Rail Stations in east London. The horizontal façade on the ground uses elements similar to the original structure, so members of the public can position themselves anywhere on the installation to perform amazing stunts which are reflected above in the large mirror. The Dalston House is free to visit and is around until 4th August, so if you're in London, get in there quick. Hurry!
It's exact location is 1-7 Ashwin Street, Dalston, E8 3DL
Internationally known for his captivating, three-dimensional visual illusions, Argentine artist Leandro Erlich was commissioned by the Barbican to create a new installation in Dalston.
Resembling a theatre set, the detailed facade of a Victorian terraced house – recalls those that once stood on the street – lies horizontally on the ground with mirrors positioned overhead. The reflections of visitors give the impression they are standing on, suspended from, or scaling the building vertically.
Sited on a vacant lot, Leonardo Erlich designed and decorated the façade to resemble the houses that previously stood on the block. Leandro Erlich's installation has been accompanied by talks, workshops and live performances, exploring themes related to the project, including architectural history, urbanism, and perception.
Weird huh? If you get to go, send the Silvertoad family your pictures and we will feature them as a suffix to this blog post!
www.silvertoad.co.uk