December 05, 2014
The Design Museum is moving to a the former Commonwealth Institute buildings in Kensington, London, UK, some time in 2016. Alongside the exciting new £80 million is news of a complete rebranding too.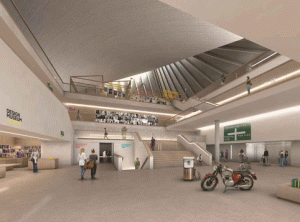 The new site will see the Design Museum able to expand three-fold allowing the public to view many more exhibits from it's permanent collection for free – with space for touring exhibitions and artist showcases.
Design Museum head of communications, Josephine Chanter said the Museum will look to 'refresh' its visual identity alongside the move, although no consultancy has been appointed to work on this yet. Chanter also said "We will be continuing to build our design and creative pool over the next six months to a year."
Design Consultancy Gravity Road has been appointed to create the launch campaign for the new Design Museum. The campaign will roll out in 2016.
The Design Museum is also working with architect John Pawson to redesign the interiors of the former Commonwealth Institute. Design Consultancy Cartlidge Levene have been commissioned to develop signage for the new site, and finally, Morag Myerscough to create the exhibition design.
Earlier this year the Design Museum launched a new website, created by Dutch consultancy Fabrique.