September 04, 2015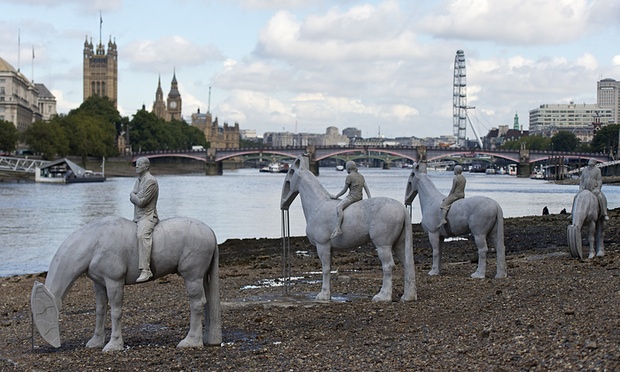 Silvertoad is really impressed by this new sculpture on the banks of the River Thames in London. Situated less than a mile upstream on the opposite bank from The Houses of Parliament, the new installation entitled The Rising Tide is visible only at low tide. Four mounted horseman slowly appear out of the water as the river levels drop.
The sculptures, by British sculptor Jason deCaires Taylor, 41, a British artist best known for creating the world's first underwater museum in Cancun, then again in the Bahamas.
The installation, which sits less than a mile from the Houses of Parliament, comprises four life-size shire horses, standing as a symbol of the origins of industrialisation but also as a warning for the bleak future it is creating for the world by their representation of the four horsemen of the apocalypse.
While the bodies of the figures and horses are moulded from real life, each of the horses' heads has been replaced by an oilwell pump – a political comment on the impact of fossil fuel on the envornment.
Taylor, who is also know for his wonderful underwater museums around the world has spent the past 18 months building his next one, in Lanzarote, which will take shape as a vast underwater botanical garden with about 300 sculptures. Once that is complete, he has an underwater project in Bali in the works, and has no plans to return his sculpture to dry land.
Photograph: B Pruchnie