July 05, 2013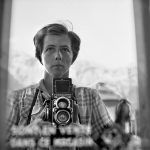 When talking about fame, everybody likes to recall that Van Gogh never sold a single painting in his lifetime, attaining world wide recognition after his death. History repeats itself with the recent discovery of 100s of undeveloped photographs by an unknown, Vivien Maier, who may yet prove to be one of the 20th Century's greatest street photographers.
In 2007, a Chicago real-estate agent and local historian called John Maloof bought said photos at auction for less than $400. Such a shot in the dark reaped untold rewards because he had discovered a treasure trove of literally hundreds of street portraits taken on in New York and Chicago in the 1950s and 60s.
We love photography at Silvertoad Bungalows and this news excited us in particular because the discovery of such fascinating material from a new master is virtually unheard of. Take a look at the examples of her pictures below and you will see that this mysterious artist can easily rub shoulders with the well-established American photographers such as; Lee Friedlander, Eve Arnold, Diane Arbus, Alfred Stieglitz, Dennis Hopper; et al.
John Maloof began to develop and restore the photos bringing them together for eventual exhibition. But the questions remained, most importantly, nobody knew anything about the photographer, all he had was a name. After some painstaking research it transpired that Vivian Maier was a nanny who had documented the two American cities in her spare time with seemingly little or no interest (or perhaps a lack of funds) in developing her works. Watch the trailer for a documentary (at the time of writing it is still awaiting a release date) and you will see that her outstanding and entrancing body of work speaks for itself.
These treasures so easily could have ended up at the landfill site, so we're happy here on the Silvertoad team to continue to spread the word and give thanks to John Maloof for taking a brilliant leap of faith and ultimately, Vivian Maier for her wonderful compositions.