May 25, 2016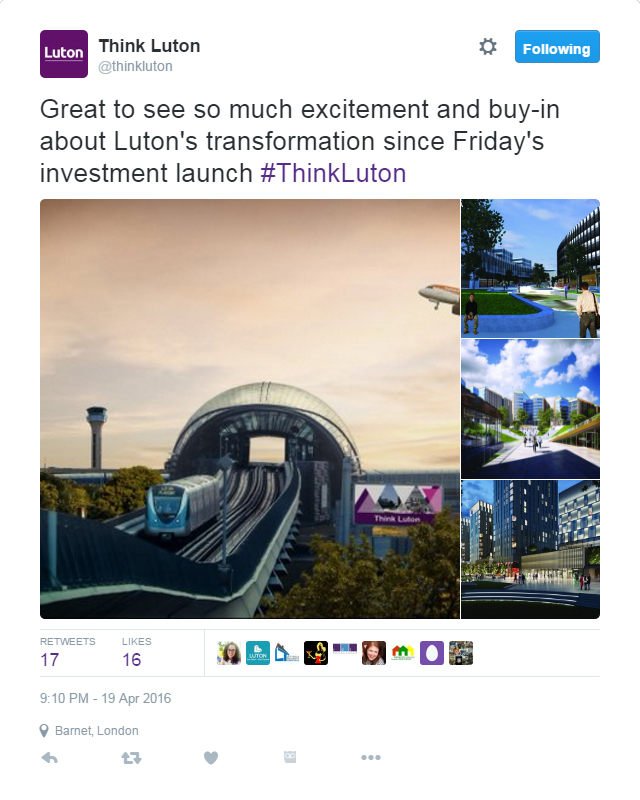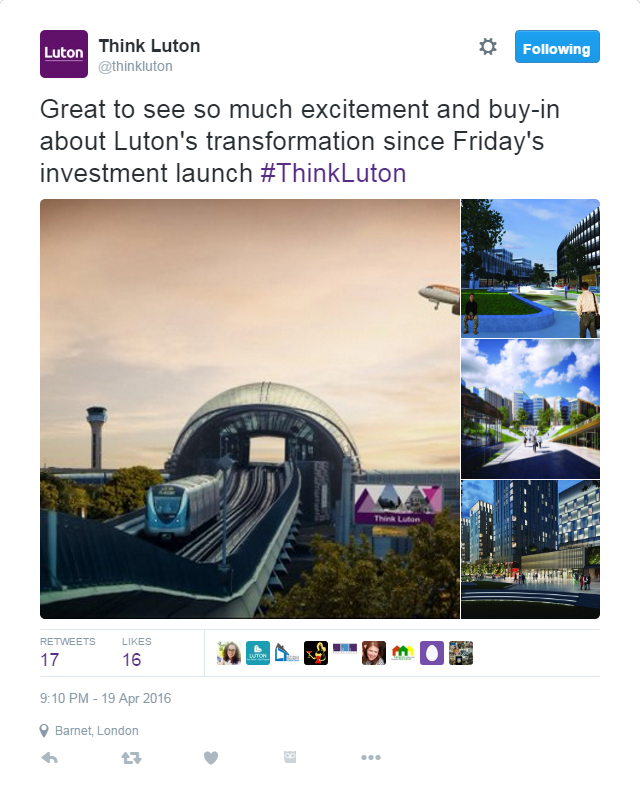 Great news surfaced late last month as the London Luton Airport has announced plans for a brand new state-of-the-art 'mass passenger transit system' linking London Luton Airport with the Luton Airport Parkway railway station. The news was a highlight at the launch of Luton's ambitious £1.5 billion inward investment programe that outlines a 20-year plan for the major transformation of the town and signals how the borough will achieve strong, sustainable and balanced growth also creating jobs for local people. The project has been promoted on social media by the Think Luton campaign. The new rail line will provide a fast and efficient transport between the airport and Luton Airport Parkway railway station.

In total 16 airlines operate to over 120 destinations across Europe, Africa, Asia and North America. The airport directly employs over 600 people and indirectly supports almost 9,000 jobs, making it a major economic contributor for the UK and local region. Once complete, the transformation is forecast to increase the airport's annual economic impact by £1 billion, to £2.3 billion per annum, and create over 10,000 additional jobs by 2030.
How the transit system to London Luton Airport works
The brand new transit system will be a fully automated, two-way, 24-hour, guided light rail covering a distance of 2.2 km. The new rail link will provide a direct journey between London St Pancras and the Luton airport within 30 minutes.
Cllr Andy Malcolm, Chair of LLAL, said: "I am delighted to confirm that the board has committed to start the procurement process to provide fast, easy access between Luton Airport Parkway and the airport terminal. Luton is the fastest growing airport in the UK and enjoys excellent road links to London and the North while Luton Airport Parkway also gives excellent rail connectivity to the capital and the Midlands."
Cllr Malcolm added: "LLAL is committed not only to optimising the airport's capacity to 18 million passengers per year but also to the development of the town as a whole."
Nick Barton, CEO of London Luton Airport, said: "Improving rail links is a crucial part of LLA's development, and integral to ensure that we provide the best possible service for all our passengers."
Interview resourced from ThinkLuton.co.uk